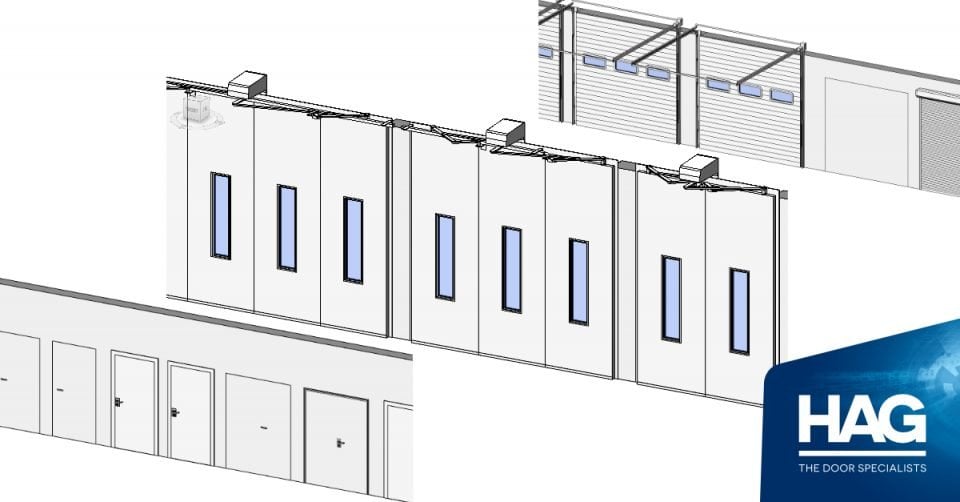 The PDFs and links below provide technical details and drawings, for Architects, Contractors, and anyone who needs the full specifications of our products. You will find BIM (Building Information Modeling) and NBS (National Building Specification) details below, detailing typical configurations.
In some cases, bespoke engineering may be possible. Please contact us directly with your specific requirements.
Our range of door products include roller shutter doors, roller shutter grilles, insulated roller shutters, high security roller shutters, industrial doors, fire Shutters, fire curtains, smoke curtains, sliding security shutters, sliding security gates, overhead sectional doors, bi-folding industrial doors, garage doors, high speed doors, steel doors and automatic doors.
You can find the technical drawings and specifications for these door ranges below, arranged by type and then by manufacturer/type within those categories.
Roller Shutters
Armourguard Range
Armourguard C1

Armourguard C2

Armourguard P1

Armourguard P2

Armourguard F1

Armourguard F2

Armourguard F4

Armourguard N2S

Armourguard N2M
SECEURO RANGE
SECEURO CD 38 BUILT ON

SECEURO CD 38 BUILT IN

SECEURO CD150 BUILT ON

SECEURO CD60 BUILT ON

SECEURO CD77 BUILT ON

SECEURO CD800 BUILT ON

SECEURO CD900 BUILT ON
ALULINK RANGE
ALULINK G1-HD

ALULINK GRILLE G1

ALULINK GRILLE G2

ALULINK GRILLE G3

ALULINK GRILLE G4
Insurance Rated Roller Shutters
SR2 Rated Roller Shutters

SR3 Rated Roller Shutters

SR4 Rated Roller Shutters
ALISHIELD RANGE
ALISHIELD F3

ALISHIELD F6

ALISHIELD N1

ALISHIELD N3M
DIAMOND GRILLE RANGE
CLEAR GUARD
SLIDING & FIXED SECURITY GRILLES
SECEUROGUARD
SECEUROGUARD 1000

SECEUROGUARD 1001
ALI GLYDE
ALI GLYDE W10

ALI GLYDE W20

ALI GLYDE W30

ALI GLYDE W40

ALI GLYDE W50

ALI GLYDE W60

ALI GLYDE W70

ALI GLYDE W80

ALI GLYDE W90

ALI GLYDE W110

ALI GLYDE W120
EXPANDA
SECEURO BARS
Seceuro Mesh
INDUSTRIAL DOORS
ARMOURGUARD INDUSTRIAL DOOR C1

ARMOURGUARD INDUSTRIAL DOOR F1

Q DOOR

C DOOR

S DOOR

Z DOOR
STEEL DOORS
ARMOURDOOR GENERAL PURPOSE STEEL DOOR AD05

ARMOURDOOR FIRE EXIT STEEL DOOR AD10

FIREGUARD STEEL DOOR FD01

INSURANCE RATED SR2, SR3, SR4, SR5 STEEL DOORS

ARMOURDOOR LOUVRED STEEL DOOR AD30

ARMOURDOOR COMMUNAL ENTRANCE DOORS

ARMOURDOOR BLAST DOOR AD50

ARMOURDOOR ACOUSTIC DOOR AD60

ARMOURDOOR INTERNAL STEEL DOOR AD70
FIRE SHUTTERS, FIRE DOORS, SMOKE & FIRE CURTAINS
FIREGUARD ROLLER SHUTTER FG RANGE

FIREGUARD COMPACT FT RANGE

FIREGUARD STEEL DOOR FD01

HF60 FIRE CURTAIN

HF240 FIRE CURTAIN

HFS PLUS SMOKE & FIRE CURTAIN

HS120 SMOKE CURTAIN
HIGH SPEED, THERMAL & ACOUSTIC DOORS
CRASH DOOR

EV CURTAIN

VR SPEED DOOR

VL SPEED DOOR

HAG ROOM DIVIDER
AUTOMATIC DOORS, GATES AND TRAFFIC BARRIERS
AUTOMATIC SLIDING DOORS & OPERATORS

AUTOMATIC SWING DOORS & OPERATORS

TRAFFIC BARRIERS

HAG SPEED GATE
GARAGE DOORS
SECURO GLIDE SECTIONAL GARAGE DOOR
SECUROGLIDE SECTIONAL GARAGE DOOR STANDARD RIB PANEL DESIGN

SECUROGLIDE SECTIONAL GARAGE DOOR WIDE PANEL DESIGN

SECUROGLIDE SECTIONAL GARAGE DOOR GEORGIAN CASSETTE DESIGN